Online streaming radio stations are available in South Africa. All you need is an Internet connection and you can listen. Listen on a mobile phone, tablet or laptop device when you are away from home.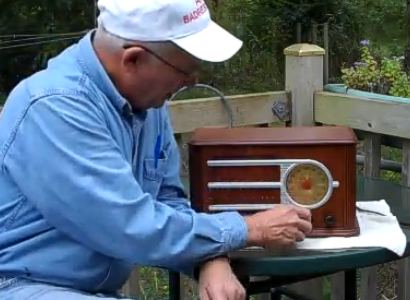 Many prefer to listen to the radio online. Because it saves you a lot of time and money as you don't have to invest in a radio device.
All you have to do is connect to the internet, find your favourite station. Be it 702, Cape Talk, KFM, 5FM, Highveld or Metro.
The streaming audio means that you will listen to the stations as though you are listening via the HI-FI in the lounge.
Online Radio Streaming Christian Radio Stations
There is also a selection of Christian online radio streaming stations that you can choose from. So if any of the above mentioned sites don't grab your attention, don't worry, these are not the only ones available.
You do not have to have any special programming or any expensive devices to enable you to listen to the radio online. All you have to have are your normal computer speakers and access to the internet.
Streaming audio will come directly though to you like it would when listening to the radio any other way.
There is nothing different except that the music from the stations are coming from your computer and not your radio itself.
5FM, Cape Talk, Metro, 702, Highveld and KFM are a few of the most popular online radio streaming stations that there are.
But there are plenty of others, like Christian and Afrikaans music stations that you could listen to.
You don't have to have anything fancy. As long as your speakers work and you're internet connection is reliable you should have nothing to worry about.
It is much more convenient than a regular radio device. And makes your lounge look less crowded if you have a small home. As you do not have to have all separate devices for different reasons.
These days, you can use your computer, tablet or cellphone to listen to the radio online, watch TV, work and keep in touch with family members.
MP3 Songs
MP3 songs are available online, and you more than likely have a couple on your cell phone too. To find downloads online, you will have to find the websites that allows you to do it for free.
But there are many of those available so it shouldn't be a problem finding one to use.
It doesn't matter whether you are looking for Afrikaans or English music; all artists' music is available on the internet. All genres, all singers and all songs.
Downloading MP3's on the Internet
MP3s can be downloaded online and sent via Bluetooth. Therefore if a friend has a song that you like and you both have cell phones that feature Bluetooth. Then the song can be sent to your phone, free of charge via Bluetooth.
This is the way in which most people share MP3's for free.
When you are looking for the best websites to use, you should do your research properly. And find out where MP3 songs can be downloaded at no cost.
All downloads are not the same, so you have to make sure that what you are downloading is what you really want.
You can find your favourite songs by the singers you enjoy most. Afrikaans music as well as English music is available for you to download. So you can take your pick.
You will be able to find MP3s from any artists, new or old online and it should be an easy task getting the songs you like.
You have to find the websites that offer legal downloads though, to ensure that you don't get into trouble for downloading illegal tracks.
Once you find a good website for downloading, stick to it unless you find a better one further down the line.
Many sites offer free downloads. So don't feel pressured to pay ridiculous amounts of money to download MP3 songs on the internet.
Legally Download MP3 Music on the Web
Legally download MP3 songs on the web rather than pursuing illegal downloads. So that your favourite artists can stay in business.
Each time you download songs from illegal websites, you are preventing the artists or bands from earning the money they need to support themselves.
Artists have spent a lot of time and effort creating music for you to listen to, and they also need rewards from that process.
If you love music and love to listen to it on your phone or Ipod, then the only good way to get it is to pay for it.
The internet is filled with websites where you can legally download MP3 songs on the web. In some instances these are free, but in most cases you have to pay a small amount.
A Variety of Genres for Online Radio Streaming
There's a variety of pop, rock and Afrikaans music from your favourite bands and singers that is available online. It will keep you in music for years to come.
The evolution of Ipod and cellphone technology means that we can carry around more and more songs each year. And the hunger for more music has meant that artists have to put some of their music online for users and fans to download.
If you're not sure how to find legal downloads on the internet, then it is best to include 'legal' in the search box. When you search for pop, rock or Afrikaans music.
This way you will avoid any confusion and can ensure that you have tried your best to keep it legal.
There are some free songs and some bands put these on their own websites. To generate exposure and revenues from further sales.
So if you know that you have favourite singers, it might be worth visiting their personal web pages to see what they have on offer.