Karen Zoid. AKA Karen Louise Greeff, born in Brussels, Belgium. And further raised in Johannesburg, South Africa, is a Rocking and Rolling triple threat who's talents are very apparent in her vocals, guitar skills as well as her acting abilities.
Adding a further notch on her musical belt is her song writing capabilities which have seen her work grace Afrikaans poetry courses in Stellenbosch, South Africa.
Related Article: Afrikaans Rock Bands
Karen Zoid initially attended a film school in Johannesburg, South Africa, before studying drama at AFDA, also in Jo-burg but eventually dropped out in order to focus solely on her music career. By 2004, Karen was married to her band member, Don Reineker, with whom she had son, but in 2010 the pair called it quits on their marriage.
Nonetheless, Karen Zoid has continued to rock the socks off of both local and international communities, with each subsequent work of musical art.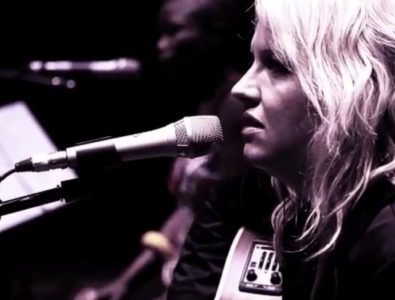 Karen Zoid Albums:
To date, Karen Zoid has released the following expressive albums:
EMI Record Label:
First Album: Poles Apart, June 2001
Second Album: Chasing The Sun, June 2003
Third Album: Media, July 2005
In 2007, Karen left record company, EMI, and went on to sign with Just Music.
Just Music Label:
Fourth Album: Post Modern World, August 2007
Fifth Album: Ultimate Zoid, 2009 (a 2 disc album comprising of hits from her previous two albums, 3 new tracks as well as a live recording)
In 2010, Karen released a new album, once again through her initial record label, EMI:
Sixth Album: Terms and Conditions, 2010
Karen received Gold Record Awards in 2005, following the successes of her first 2 albums, Poles Apart (which became an instant musical sensation) and Chasing the Sun.
Karen Zoid Awards:
As one of South Africa's foremost female rock stars, Karen Zoid has not been without raving tributes by means of nominations and decorations.
Over and above receiving 2 Gold Record Awards in 2005, from the time when Karen began gracing the nation, and beyond, with her sometimes soulful other times hardcore music, she has received awards for the following, by the following:
Best Female solo artists for Post Modern World – SA Music Awards
Top 100 People of South Africa
One of 6 Rising Stars in South Africa – Sunday Times paper
Top 10 famous people in South Africa – Rapport Newspaper
Best Song Writer / Best Rock Album / Best Album Overall – SABC 2 Geraas
Best Newcomer / Best Rock Album – SABC2 Geraas
No. 1 Album of the Year for 'Poles Apart' – SA Rock digest / SA FM
The Kanna Award for the Best Light Music Production – KKNK (Klein Karoo Nationale Kunstfees)
No. 1 Song of the Year for: 'Set of Wheels' – SA Rock digest / SA FM
Spirited feats:
Although Karen Zoid did not take home the ultimate titles herein, she proved to be a true force to be reckoned with when she was honoured with nominations for the following categories:
Shoprite Checkers Women of the Year, 2002
Rock Album of the Year – South African Music Awards, 2002
The 'Zoid Generation':
With every success founded by Karen Zoid, so her fan base grew in size and adoration. It was only a matter of time before the press labelled her followers, namely South African youths, with an apt nickname 'The Zoid Generation' – this following the triumph of her first album, titled 'Poles Apart'.
The Authorities Approve:
Karen Zoid has not only appeared live on stage, starred in the 2010 film titled 'Susanna Van Biljon', launched cd albums, written music for television programs, had her music appear on countless radio stations and had her songs appear in the 2006 flick titled 'Number 10', but she has also had the honour of sharing her talents with some of South Africa's most influential characters:
2004 – Karen performed at the inaugural of State Presidents ceremony for Thabo Mbeki;
2005 – Karen Zoid, along with her band members, performed at the Nelson Mandela 46664 HIV/AIDS benefit concert;
2009 – Karen Zoid performed at the inaugural of State Presidents ceremony, once again, this time for Jacob Zuma;
Additional Successes:
Following her performance alongside John Meyer in Dubai as part of Desert Rhythm Festival in 2006, Karen Zoid saw 2 of her hit songs from her album 'Post Modern World' top the charts in 2007:
Hit Song, 2007: Aeroplane Jane
Hit Song, 2007: Post Modern World
For more information regarding South Africa's treasured rock star, Karen Zoid, the following sites are available in order for fans to keep up to date on this oh so legendary lady:
Website: www.karenzoid.co.za
Twitter link: https://twitter.com/karenzoid
Followers: 27 512